At Changing Spaces SRS, we do our best to completely customize our services to your individual needs. When we visit your home to conduct the initial free in-home consultation, we will discuss your situation to see which services will meet your needs, and develop a plan that will best serve you and your family. Our services can be classified into three major categories: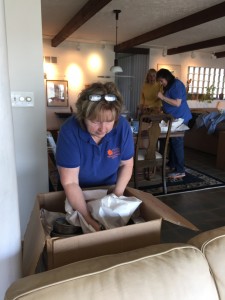 Sorting
Whether you are preparing for a move or simply wish to rightsize the belongings in your current home, Changing Spaces SRS can provide the physical, emotional, and logistical help needed to tackle the sorting process in your home, room by room. We can help you determine which items you wish to keep, which should be donated or sold, and which items can be disposed of or recycled.
Moving (Packing, Move Day, & Unpacking)

We can assist clients with the moving process from start to finish. We provide a menu of services (below), which clients can pick and choose from. Some clients want help with everything, while others merely want help with one part of the process.
Menu of Moving Services
Prepare a moving timeline.
Assess your new residence and create a customized floor plan, helping you to decide which furniture pieces will best fit in your new home.
Assist you with the rightsizing process of all your household contents, room by room.
Provide moving boxes and packing supplies.
Carefully and efficiently pack all items being moved, labeling each box clearly.
Arrange moving dates and times with a moving company.
Supervise and direct "Moving Day."
Empty refrigerator and freezer and transport perishables to new home.
Direct movers as they place things according to the new home floor plan.
Make the beds, connect phones, TV's, lamps, computer, clocks, etc.
Begin unpacking other essentials to ensure you have everything you need for the first night in your new home.
Put everything — furniture, personal items, clothes, dishes, linens, food — in its place.
Unpack and organize entire residence including kitchen, closets, etc.
Dispose of all packing materials and boxes.